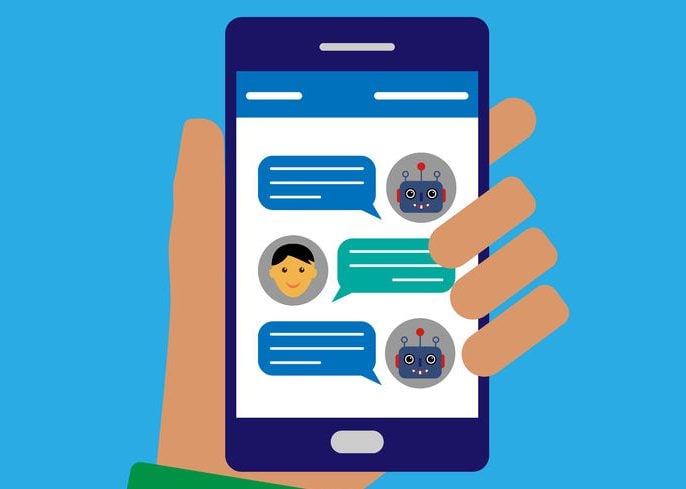 06 Jun

The Chatbot: Marketing's New Secret Weapon

If you're wondering, are chatbots something I really need to add to the marketing mix?  Consider the following before feeling overwhelmed by what may feel high on the gimmick scale:
There are currently more than 30,000 Facebook Messenger chatbots

According to a recent

TechCrunch

article, there are more than 1 billion Messenger users

David Marcus, who runs Messenger, calls chat threads "

the new apps

"
For marketers, the first order of business should include a visit to Facebook Messenger to start a conversation with a bot you'd like to try out, as seen below.
Image courtesy of TechCrunch, April 18, 2017
Because smartphone users are spending more time in messaging apps than other apps, chatbots continue to gain popularity.  "Messaging apps account for 91% of all time spent on mobiles and desktops by users, according to article published by Quartz Media citing a recent ComScore study.
Now that you know that chat is the place to be, the good news is that chatbots often have access to more information and applications than a customer service rep, and with enough computing power and resources, they can work day or night to answer human queries. Think of a customer-service powered chatbot as your always-on customer service representative.
But, before we jump into the common chatbots dominating the field of marketing today, it's important to define and understand the different types of chatbots, some built using only algorithms and some that add in machine learning, in order for you to find the best fit for your company and marketing objectives.
What is a chatbot?
A chatbot is a service that typically lives within a messaging application that enables humans, typically customers or prospects, to request information in a text-based format.  All chatbots rely on NLP (Natural Language Processing) and algorithms to reply as a human would.  Early chatbots were simple in design, in their ability to respond and frankly, were often frustrating.
However, with the advancement of computing power and cloud storage, chatbots truly became artificially intelligent when machine learning was added to the formula.  By adding machine learning to NLP  and algorithms, chabots become smarter over time by learning from data sets and human feedback. Now, many chatbots are utilizing AI (Artificial Intelligence) to handle a task normally handled t. by humans.
Types of Chatbots
Chatbots that employ NLP and algorithms are simpler in nature and therefore able to handle simple queries or requests for information. These chatbots can only handle rather basic tasks or questions as they are lacking machine learning to make them smarter and more effective over time. The business problem or functional area that your chatbot will serve will dictate the whether you'll need to apply machine learning to it.
The Customer Service Chatbot: A Happy Customer is Your Best Brand Advocate
While customer service typically doesn't fall under marketing's reign, it's mentioned here because at the end of the day, a happy customer is your company's best brand advocate.  If your company hasn't examined or tested chatbots for customer support, CMOs should discuss the option with their customer service colleagues since ultimately, unhappy customers will likely take to social media, a core marketing function, to air their grievances.
Many enterprise companies' first line of defense in responding to negative tweets about their brand are chatbots that automatically reply to those tweets with a request to take their complaint to a separate support twitter account or to direct message.  From there, a human may pick up the conversation and at the very least, your automated response may subdue the unhappy customer and show the rest of twitterverse that your company responded promptly to a complaint on social media.
In the customer service category, chatbots are dominating the healthcare and banking industries.  A report by Juniper Research published last month, the company said that "chatbots will be responsible for cost savings of over $8 billion per year by 2022, up from 20 million this year."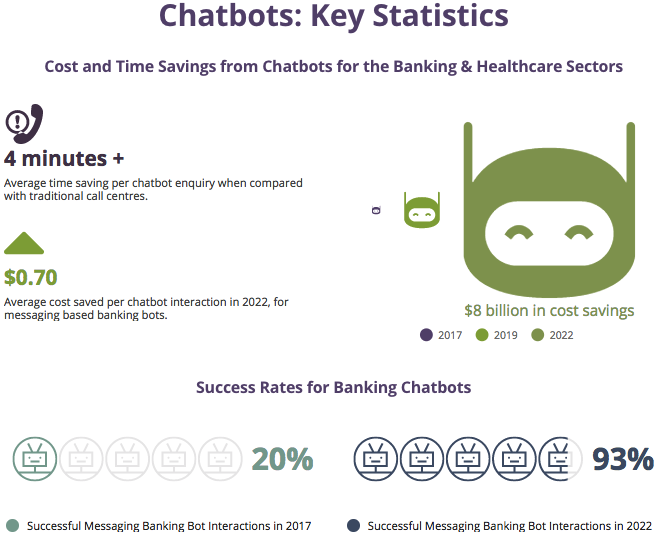 Source: Juniper Research Infographic, May 9, 2017
In the banking category, many banks and credit card companies today are putting chatbots to good use to allow customers to obtain basic account information, such as their account balance or when their next payment is due.
By providing customers with the information they want within common messaging apps, companies are finding fewer accounts going to collections, a task typically handled by a human on an auto dialer.  For example, customers can respond to a late payment notice from a chatbot by simply replying "yes" or "no" to issue a payment from a pre-approved payment source.  Or, customers can select other payment options if they are having difficulty paying a past due or upcoming monthly bill.
The Social Media Chatbot: Power Up Content Sharing
Chatbots are proving quite valuable in the eCommerce space by learning a customer's preferences and favorite brands and then alerting them to new products in store or content that interests them when the customer returns to their site.
By dishing up the right message to the right person at the right time by employing chatbots  in messaging apps versus an email newsletter, for example, brands are able to do just that, which is every marketer's dream – or so we thought.  Instead, Robert Rose, the Chief Strategy Officer at the Content Marketing Institute suggests that "instead of focusing on the right message, to the right person, at the right time, successful content marketers are creating the right value, to the right audience, in their time."  And, the good news is that chatbots enable all of these things.
The Sales Chatbot: Closes Deals and Upsells New Products
Imagine that your new lead qualification team is now in the form of chatbot that can handle multiple conversations at a time, day or night.  Many eCommerce and B2B websites today have already put the sales chatbot to work by asking the customer what they are shopping for and in turn, able to identify the product that best suits that prospect and recommend it in minutes.  
In the world of B2B sales, many of us are familiar with the five-minute rule, which says that a salesperson should reach out to a prospect that filled out a form to access content within five minutes.  According to Sujan Patel, co-founder of Web Profits and Inc. contributor, "the time between lead generation form submission and a salesperson making contact has a direct effect on whether or not those leads become clients."
In some cases, a chatbot may even be able to close a deal by recommending the right product if the customer is ready to buy.  Additionally, eCommerce companies are also finding success with chatbots that ask online shoppers what their favorite brands or interests are and then suggesting items they might want to add to their shopping cart, increasing the spend per visit.
After a prospect has ended a conversation with a chatbot during which they expressed interest in purchasing, workflows can be added to trigger an action, such as an email to a sales rep, that includes the information gathered.  "Now, when your sales reps receive leads, they'll know – thanks to your chatbot's qualifying questions – that they're talking to your ideal customers," Patel added.
The same theory can apply to current customers that engage with chatbots on your site.  Current customers may return to your website to get support or learn what's new by engaging with your chatbot, which can recommend new products based on their prior purchase history or new information gathered in recent chats with that customer.
Conclusion
If you're not sure where to start, checkout Chatbots magazine on Medium, which has a hefty amount of articles on the topic, including a "3 Stop-and-Plan Steps Before You Launch a Bot." Important to note is the first point made in that post by Senior Writer Paul Boutin, who writes that "Step 1: Plan To Make the Bot a Full-Time Project."
If you need help with determining a plan of action or how to implement chatbots to work with your current marketing automation tools, give us a call.  We'd love to chat with you!